Project Description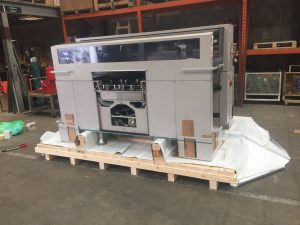 We manage the crating, packaging, and logistics needs for all sectors of the commercial and industrial markets, and can handle large, heavy equipment. Unlike most pack and ship companies that have weight and size limitations, we offer crating solutions for just about anything you can imagine. Items that are too big, too heavy, or too valuable for others are no problem for us.
Our in-house engineers custom design packaging and crating based on an item's needs or your specifications. We have the capability to provide on-site services at your place of business or off-site services at our Kildare location. Rigging and other specialized equipment services are available.
Some items are too large or too heavy for corrugated cardboard packaging and require sturdier containers. We understand that certain goods require crates, boxes, or containers made from wood for added protection during handling and shipping. There are numerous crate, box, and container styles and variations. The style of wooden crate we choose is based on the load weight, dimensions, value, and characteristics of the item to be shipped.
We also have extensive expertise in moving business assets. From machinery, office equipment, and furniture, to computers, electronics, and server racks, our teams can carefully package, crate, and ship your items so that they arrive on time and undamaged.